Ace Race is a racing/movement game in MC Championship. This game replaced Foot Race starting in MCC7.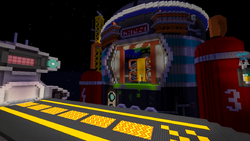 Goal
Similar to Foot Race, Ace Race is a parkour-based racing game where contestants are spawned onto a track and must complete three laps around it within 10 minutes (formerly 12 minutes) in order to win the game. Players are given a Riptide 2 trident which players can use to travel through the water sections, in addition to an Elytra for use in flying sections. There are also jump pads, boost pads, and various lakes for use of the trident. Unlike Foot Race, PvP is disabled in this gamemode.
Coin Rewards
400 coins are rewarded to the person who finishes 1st, decreasing by 10 coins for every placement. Players who do not finish will not get any coins.
Bonuses are also rewarded:
1st place: 300 bonus coins
2nd place: 240 bonus coins
3rd place: 180 bonus coins
4th-9th place: 120 bonus coins
10-14th place: 60 bonus coins
15-19th place: 15 bonus coins
Official Description
Ace Race is a three lap race around a big track full of shortcuts and pitfalls. Sprint, jump, and fly as fast as you can, and avoid obstacles to get the fastest time possible! Boost launchers line the track to send you gliding across the course, while vast pools allow you to riptide your way to victory!
Appearances and Overview
Records
Trivia
Before MCC 16, this game suffered from a trident collision bug that happen when players "bumped" to each other during riptide mode.

This was fixed in MCC 16, with tridents being custom coded. In exchange, the trident would auto eject after the trident is fully charged to accommodate people who may have higher pings.
MC Championship Games
Other Games
Previous
Retired
↑

Ace Race Statistics up to date as of MCC 17