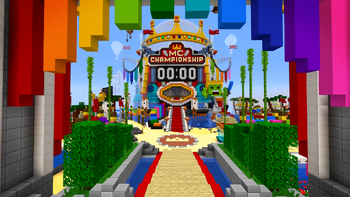 The Main Hub is the hub area where players wait for their next game and decide on what games to play in the Decision Dome. There are a bunch of hub mini-games across the map as well as the hall of fame and the Champs where the winning team for each MC Championship will stand at the end of an event.
The main hub is loosely taken from Summer Minigames Festival, a map released in the Minecraft Marketplace for Bedrock Edition by the Noxcrew themselves
The Decision Dome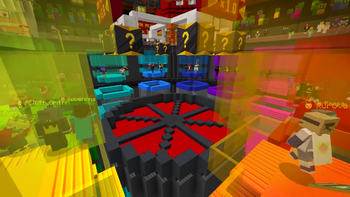 The Decision Dome is where all players from each team will get a chance to vote for a game to be played in the event. Players will vote using eggs to spawn chickens in the dial at the centre of the dome. There are a maximum of 8 games on the dial at a time. More games are added in the 6th round of voting.
Powerups are also given to teams to help with the voting after round 2. (except for round 5, the audience takeover)
Throughout every MC Championship, there is usually an easter egg when the elevator, located in the Decision Dome, breaks.
The Hall of Fame

The Hall of Fame is where all the records and scoreboards for each MC Championship game are located. This is also where all of the winners from the past MC Championship are located with each event having its own space.
Mostly in themed events, the front of the Hall of Fame is also used as a scoreboard for a hub mini-game in that event.
The Walk of Fame (The Champs)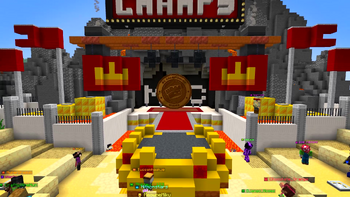 The Walk of Fame (The Champs) is where the winners from each event will be crowned as the champions of each MC Championship event. The winning team will be spawned on the stage at the end of Dodgebolt. All other teams and spectators will spawn below the stage.
Miscellaneous Places
Other miscellaneous places in the main hub include:
The original Parkour Tag map replica near The Champs and the Hall of Fame.
Burgers But Fast Shop
TGTTACOS Shop
Drinks Shop and Hangout Areas
MC Championship Locations