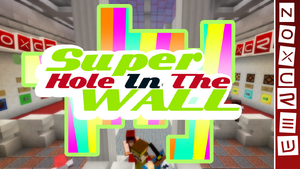 Super Hole In The Wall is a free Minecraft: Java Edition map created by Noxcrew, where the players must pass through a variety of walls approaching from 4 directions by going through the hole. This map is based on a popular game show "Hole in the Wall". This map features difficulty modifier, multiple game modes, original soundtrack, and booby traps.
This is the map which the MCC game Hole in the Wall was based on, with many resemblances to the original map.
Differences from MCC
The platform is a rectangle with no hole in the middle.
The platform doesn't shrink as the game proceeds.
There are two sizes of walls.
The walls don't speed up as the game proceeds.
There are no psych walls.
Scores are pointed by amount of walls passed instead of other people's elimination (only in casual mode).
Links